An Electronic Identification Device (EID) system uses an electronic ear tag or device, marking each animal with its own individual identifying number.
Why use an EID system? 
The microchip within the EID can be read electronically in a fraction of a second by a hand-held or panel reader, and transcription errors can be eliminated. This saves both time and labour whilst increasing the accuracy of your flock information.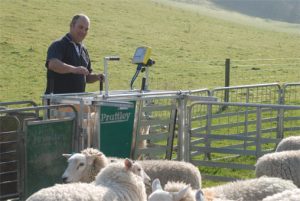 What are the benefits of using an EID system? 
There are many potential flock and cost management benefits of EID for producers:
for meat:
–  use of weight records and individual growth rates to assist in meeting market specifications
–  liveweight data collection
–  selecting stock for improved current and future production

for reproduction:
–  body condition scoring
–  tupping group data- pregnancy status each year
–  optimal use of pregnancy scanning data
–  tracking specific bloodlines

for parasite management:
–  use of targeted drenching or worming
–  identifying poor performers in the flock
Collecting EID data enables a producer to run a more efficient flock or herd, with improved genetic gain and increased associated profits.
How can BLAS help? 
Matthew works with producers by setting specific targets for the flock or herd, then managing the collection and interpretation of data to then drive decisions that will maximise the business.
For more information, contact Matthew.